ABOUT US
We believe in building a compelling design that inevitably attracts target customers.
At Applexa Infotech, we are a team of budding professionals that work to provide you with expertise and solutions for a wide variety of subject, ranging from web development to tally marketing. With our ability to infuse technology with innovation and modernization we are able to render solutions that are customised to each client on many services including, web designing, app development and graphic designing in order to maximise their marketing potential across the World Wide Web. We function on cutting edge technology to encourage lateral thinking to help solve problems with a creative approach and providing newer perspectives. We can offer provisions for on e-commerce development as well which incorporates social media marketing with search engine optimization (SEO) to abridge business and technology.
Creative & Skilled Agency
With our endeavours, we hope to bring together a community of customers and professionals that create amazing things together.
Pocket Friendly Packages
Our services have always been our focus and we understand every need of our customers so, we make sure we create value for their money as well.
Global Coverage Agency
It is important for any business to be a part of the globalised world of today, and we too encourage a similar approach in our services.
Successful Solutions & Results
Our relentlessness is very prevalent in our work. We ensure that we will keep up and running until the customer is duly satisfied.
Would you like to speak to one of Website Designing  In Chandigarh over the phone? Just submit your details and we'll be in touch shortly.
Why choose Applexa Infotech for Web Designing in Chandigarh?
Our web developers help in the creation of designs that will ensure that you have a strong online presence and are able to attract an organic customer base. Additionally, we create web designs that will be accessible on all interfaces and devices whether a mobile, a tablet or a laptop or desktop. We always keep the needs and requirements of the readers as our topmost priority and decide our actions accordingly. All our designers are accustomed to using the latest and most contemporary techniques to create effective and functional web designs. Some of the techniques used by us include HTML 5 and CSS3 along with LESS CSS. We are fortunate to be equipped with both brilliant minds along with great minds to ensure great designs.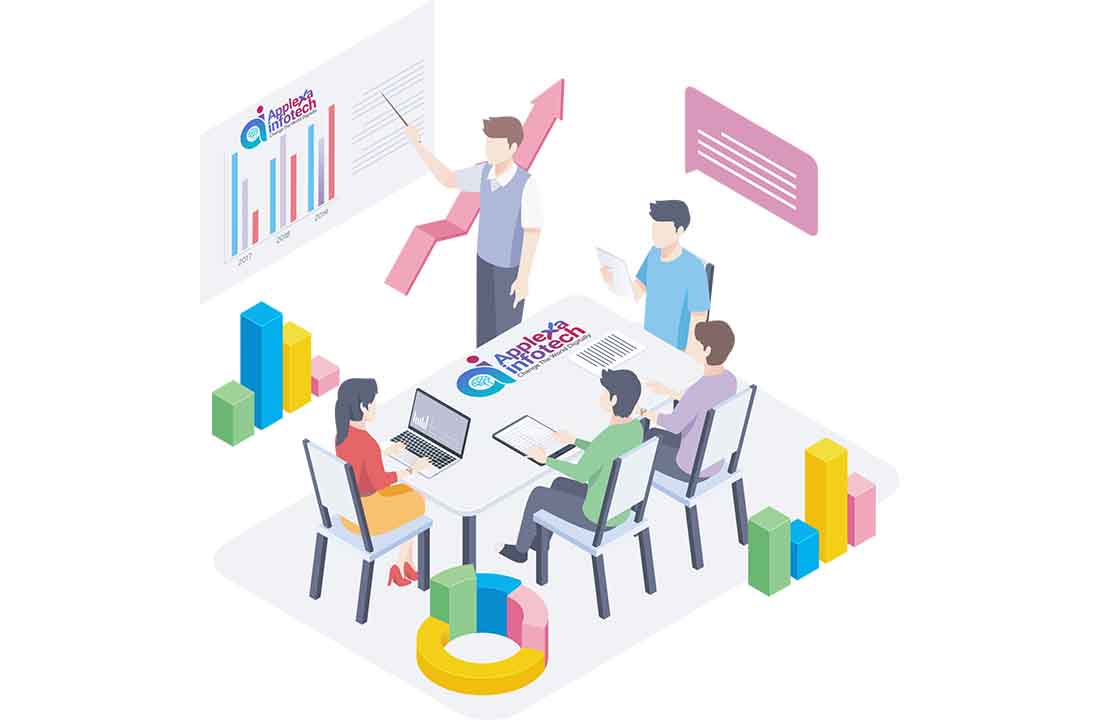 Our selling point is that we make sure to deliver a hassle-free experience to the consumer with an easily accessible web designing that makes us one of the top IT companies in Chandigarh. We coordinate with components that are required to render a smooth navigation system for the website along with prioritizing the branding by creating an aesthetic appeal.
Great designs have their own identity and are fascinating only when they speak their own story when you look at them and have an experience. We believe in the system of providing just the right experience to all our customers and clients. In order to gain skyrocketing success in the competitive world of today, it is important to provide the best services possible. We have been able to maintain the practice of consistency in the years that we have been working for and managed to provide the best web designing service in Chandigarh, Mohali, India. To keep ahead of the game, it is necessary for one's website and application to endure an impressive design that the visitors and users can appreciate. We also believe in building products that inevitably attract target customers.
Check out our work here! Here we present the results of our hard work and endurance to help you decide the best services for your business to prosper. Just go through our portfolio
We Give our Customers a priority.
Applexa finds it's customers and clients to be the most important and crucial aspect of the entire system. We provide a service of the highest quality to our customers. We have established a strong commitment to work towards providing the most exceptional service. The businesses we support are transformed with the aid of our expertise. Providing the consultation which is supported by intelligence as well as experience to transform the businesses we come across and push them to greater success is our primary purpose. Being one of the best software development companies in Chandigarh, Mohali,  it is paramount we maintain the promise of our morals and values. Our design professionals create an environment of loyalty and honesty that makes our clients feel comfortable and is a highly appreciated aspect of our service.
At our organisation, it is our constant endeavour to maintain a spirit and connection with everyone involved in making every project a success. The drive behind our company is the efforts we have put in that have pushed us from the very first day. We have never limited ourselves to just providing an outsourced service but established many ever-lasting relationships. Growing these relationships along with the business at hand is always a part of our service.